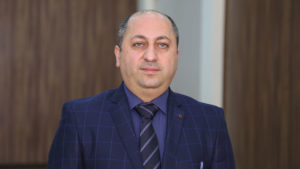 Assist Prof Dr.Alan F. Ali
Welcome to Sulaimani Polytechnic University!
Sulaimani Polytechnic University(SPU) has made tangible progress toward its dream to make higher studies get closer to the marketplace and indeed meets the demands of the private and public sectors. This essential goal has been, in the first place, set by Sulaimani Foundation of Technical Education, and as soon as SPU replaced the Foundation of Technical Education, this goal has taken bigger priority.
We, as a technical university, aspire to generate highly competent technical cadres and experts of multi-disciplines, and provide them with diploma, bachelor and higher degrees. Bearing this in mind, they are equipped with the knowledge, skills and qualification that enable them to compete in the workplace and acquire high quality jobs in high-demand fields, through which they can contribute to their society's progress and advance. Furthermore, we attempt to maximize opportunities of the higher studies to a greater proportion of the high school alumni on condition that they become successful job pursuers following their graduation.
With its more than 13000 students from 13 campuses of colleges and institutes spread across the Sulaimani governorate, SPU is one of the foremost and innovative Kurdistan Region's universities, which offer the technical education and vocational expertise to the youth. It is assumed that the Kurdistan's economic and social growth without development of technical education and vocational training is not sustainable; therefore, indisputably, SPU plays a key role in shaping the future of the Kurdistan.
By mounting rigorous higher studies programs, articulating increasing numbers of academic partnerships and collaborations with technical universities worldwide, the university seeks to take its place as the leading academic, intellectual and cultural center at the confluence of Kurdistan, the region and the world. By creating a community of learning that crosses and indeed effaces cultural boundaries in order for the Kurdish nation to enjoy the global expertise and experience, we seek to put a particular attention to bear on the role of knowledge production and program development at the level of diploma, bachelor and postgraduate studies.